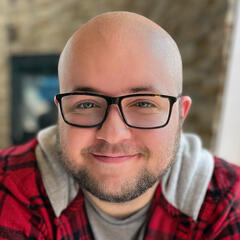 Calvin Joyal
---
Visual Demo Reel
---
Character Demo Reel
---
Commercial Demo Reel
Resume
Interactive
Animation/ADR
Commercial/eLearning
| | | |
| --- | --- | --- |
| UPS Come Back Strong - Ad | Internet/TV/Radio | UPS Canada |
| ABC News Live - Pride 2021 | Opening Voiceover | ABC |
| Winter Road Trucking - Ad | Radio | De Beers Mining |
| Protocol for Gender Identity | eLearning | City of Hamilton |
Misc
Featured Work Gallery:
Home Studio
| | |
| --- | --- |
| Microphone | AT4040 |
| Interface | SSL2 |
| DAW | Reaper |
| Home Studio | PVC frame booth treated with acoustic blankets and bass traps |
| Communication | Source Connect, Skype, Discord, Zoom |
My name is Calvin Joyal! I'm a Métis, trans male voice actor based in Vancouver, Canada.I've been in love with voice acting since I was a little kid! I bought my first microphone when I was 15, and I've worked to build my voice acting skills ever since.Since 2017, I've provided voices for commercials, video games, animations, and more. I've been voice acting full-time since January of 2021.Whether I'm voicing a bright and excitable protagonist, a friendly boy-next-door, or a youthful commercial read, I bring the same enthusiasm and love for the craft that I've had since I bought that very first microphone!